Having photographed over 150 magazine front covers and over a decade touring the world with IRON MAIDEN, it is safe to say John McMurtrie has earned his reputation as one of the world's leading music photographers, just don't call him a veteran!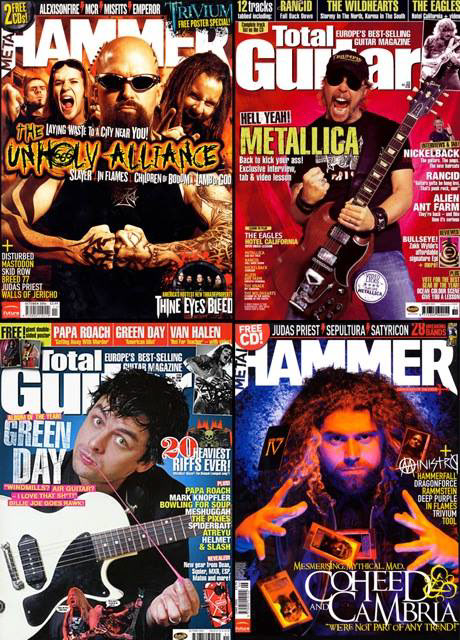 'VETERAN! Oh man, I hate that expression!  It is true my first front cover was of a Nu-Metal band, but calling me a veteran makes me sound like I am ready to retire!'  
'I first started shooting for Metal Hammer magazine back in 1996 just as LIMP BIZKIT, KORN and LINKIN PARK broke through. They were such exciting times to be a photographer and suddenly Metal was in the main stream.  Thankfully I still love the bands and the music I shoot. The metal scene is constantly evolving and I can honestly say I still enjoy photographing the newer bands just as much as the more established bands on the circuit. I remember shooting Korn and Slipknot when they first had their debut and that level of excitement and danger still exists with the new bands of today! To see Slipknot now at the top of their game makes me feel so proud of the metal scene! Each generation inspires each other so that mix of new and older bands will always exist. Being asked to photograph music is so special because you are capturing a piece of history!'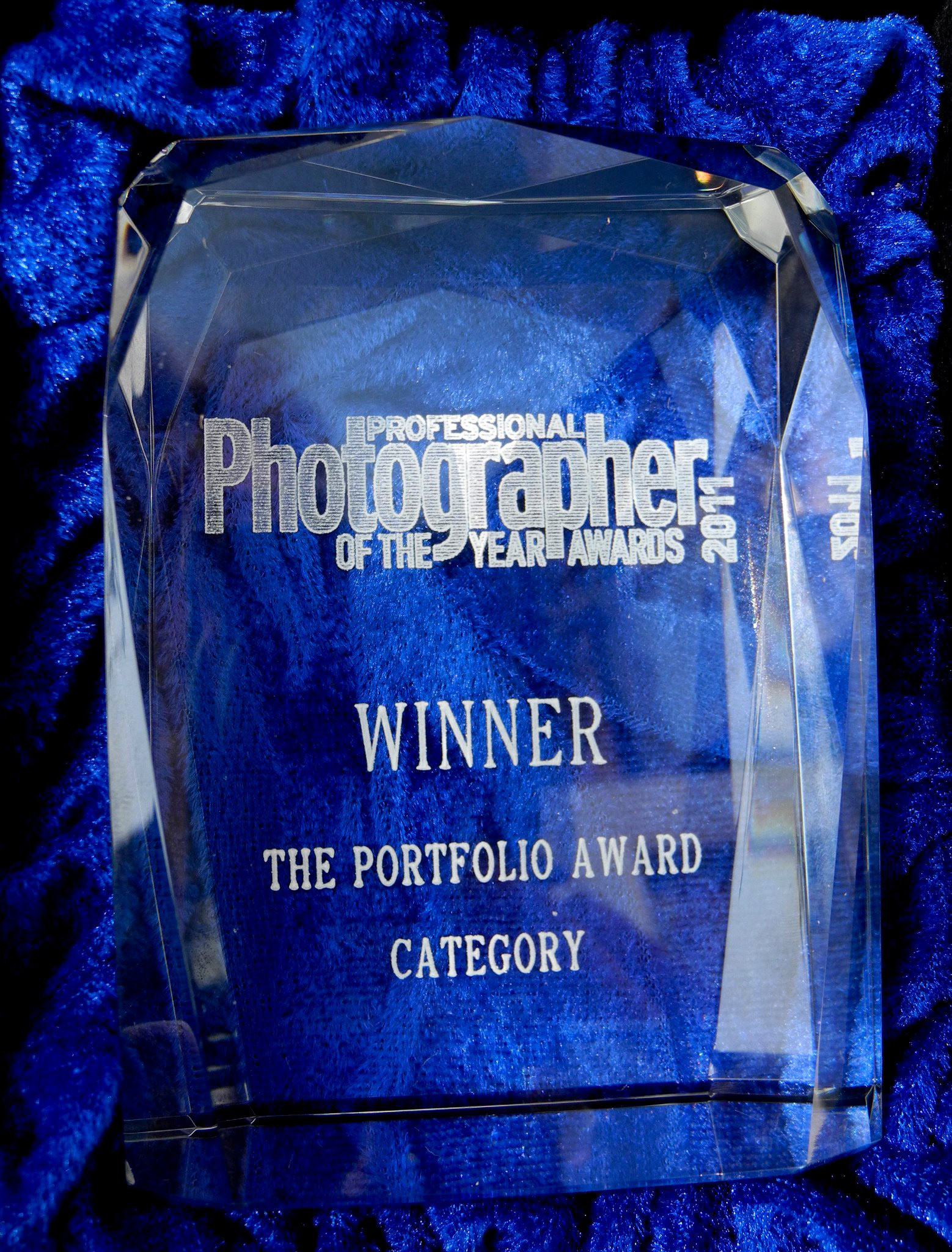 Fortunately John has never fallen into the trap of being predictable in his photographic work and in 2011 Professional Photographer magazine awarded him the best portfolio title!  
'That was a real honour! To be recognised by your peers is special but you have to evolve as a photographer in the same way a musician never stops learning so I haven't let it go to my head.' 'I have always tried to tailor my portraits to suit the band instead of having one technique fits all.  My portraits of Slipknot are very different to the ones of say Avenged Sevenfold or the Foo Fighters.  My shoot with Myrkur in Copenhagen (where I got covered in flour) would have been so much easier against a plain white background but where is the fun in that?'
You went to Art school and studied Graphic Design.  Does that help with the creative process? 
'Definitely!  With cover shoots I understand how design and photography have to compliment each other and the importance of telling a story.  90% of the time I will have already mentally shot the portrait before the shoot happens.  The hardest part is the research and the prep, get that right and the whole process is easy for everyone! Ironically I really hate having my photo taken, so I have sympathy with all my victims!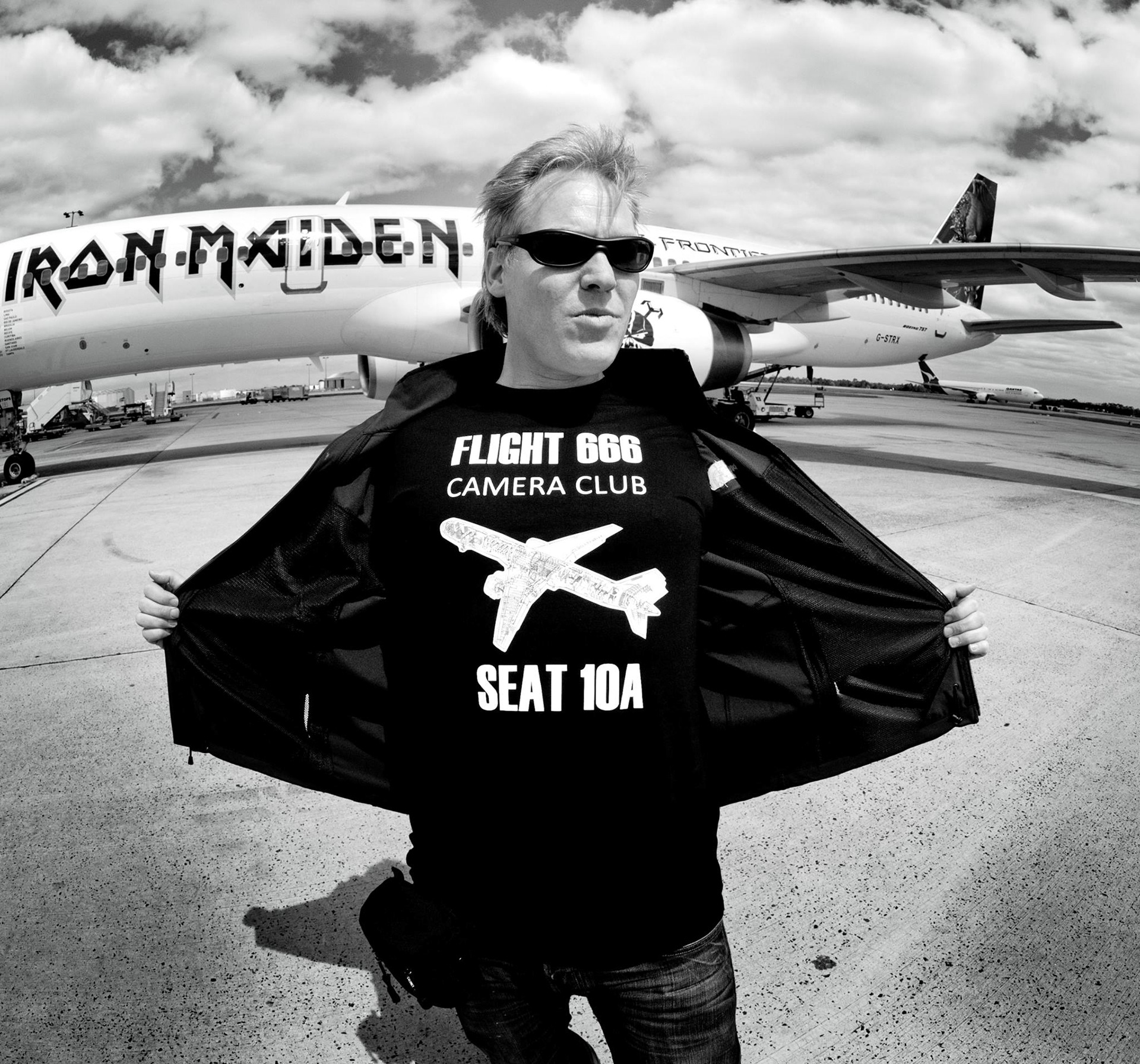 Equally John is an accomplished Live photographer and truly captures the scale of every event he shoots and there is none bigger than IRON MAIDEN!
'I 
was asked to shoot officially for IRON MAIDEN back in 2006 and have accompanied them on their meteoric rise in success ever since!  Each year they out do themselves! Whether it is on board their own private Boeing 757 and 747 'Ed Force One' (piloted by lead singer Bruce Dickinson) or in front of 100,000 people in Brazil, the band are unstoppable! I never take for granted what an honour it is to shoot for the mighty Maiden! I am often asked where do you shoot the show from and my answer is everywhere!  I will literally shoot a show from every angle to show off the scale, excitement and passion of the band.  If I can't physically stand somewhere I will install remote cameras and get the shot that way!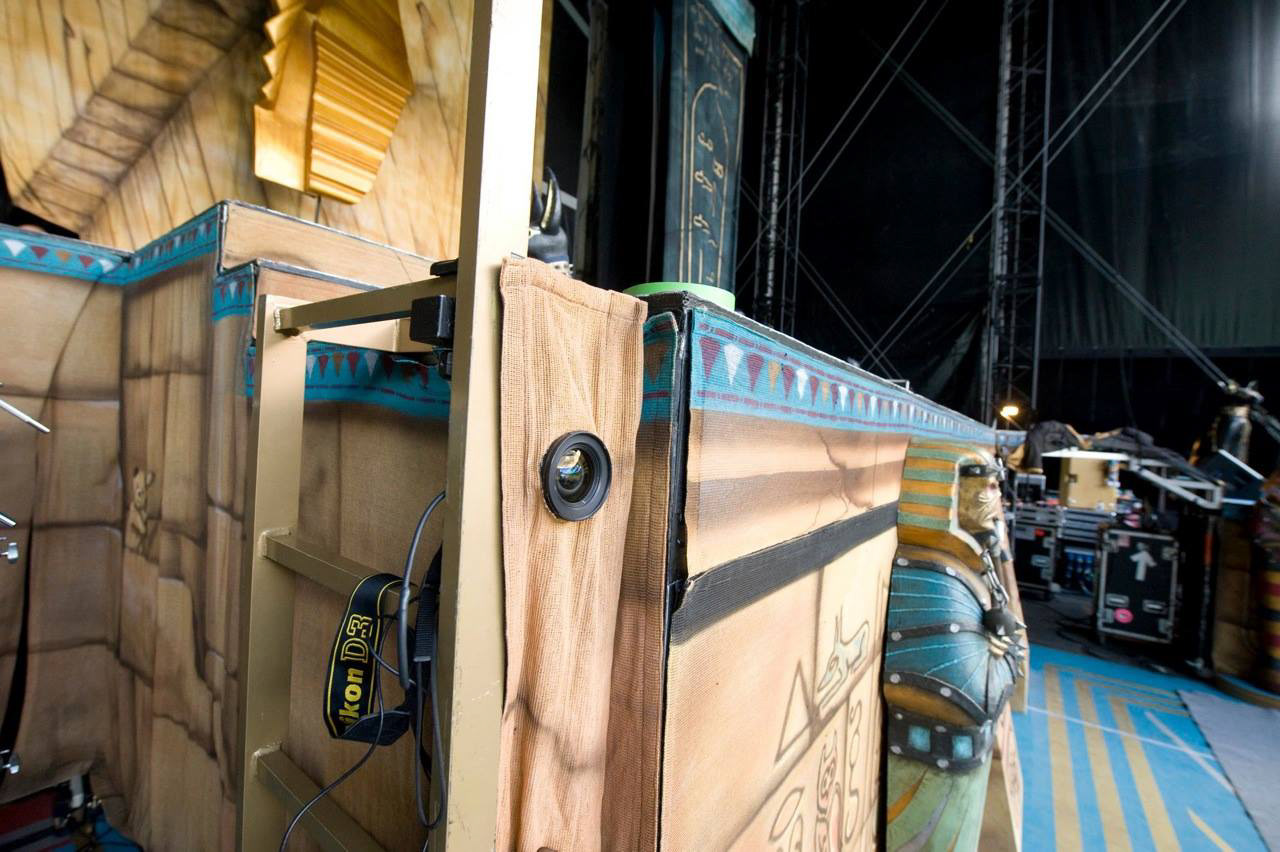 I often attach cameras into the lighting rig or in view points where I can illustrate the scale of a show.  For Rock in Rio 2019 I climbed an 80ft high follow spot tower to set-up a remote camera.  It was literally terrifying setting it up but the shots more than made it worth it. 
I have photographed Maiden in over 100 different countries and riding on Ed Force One makes documenting every tour so special and always entertaining. Visiting countries like El Salvador, Ecuador and all of South America are equally special for me as they are for the fans of the band.  I could literally shoot 24hrs a day if I could.'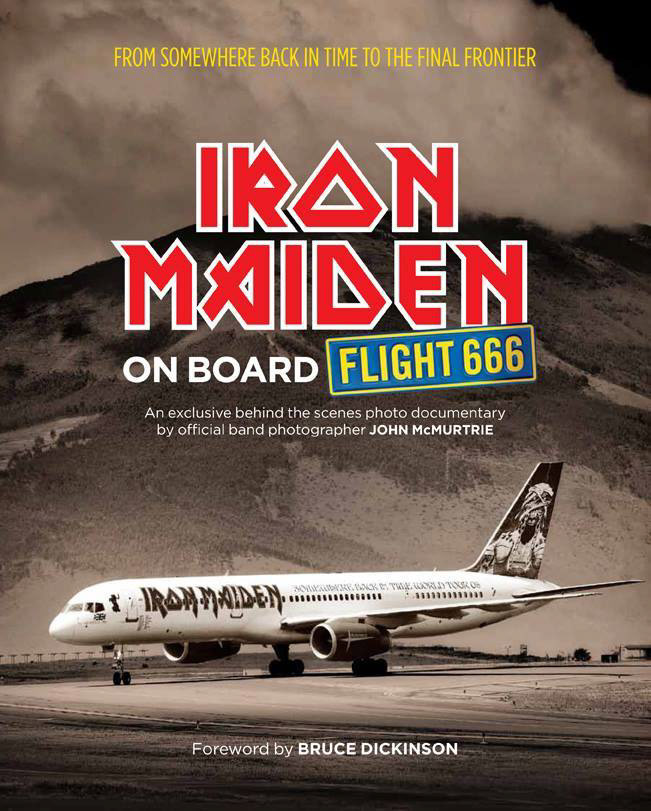 John published the No.1 best selling music book 'On Board Flight 666' to critical acclaim in 2011. A photo documentary chronicling 4 years on the road during the Final Frontier and Somewhere Back in Time tours.
'The book sold out completely on Amazon in one day!  That was a surprise to everyone, especially Amazon who were demanding more copies of the book on a daily basis.  It was such a relief for the book to do well as personally I had put so much into it!  100% of the images in the book are moments as they happened and a lot happened on those tours! The fans of IRON MAIDEN are dedicated to the band but if they hadn't liked it, they would have let me know.  Fortunately they loved it and the book has had 4 reprints and is also now available in soft back and digital format!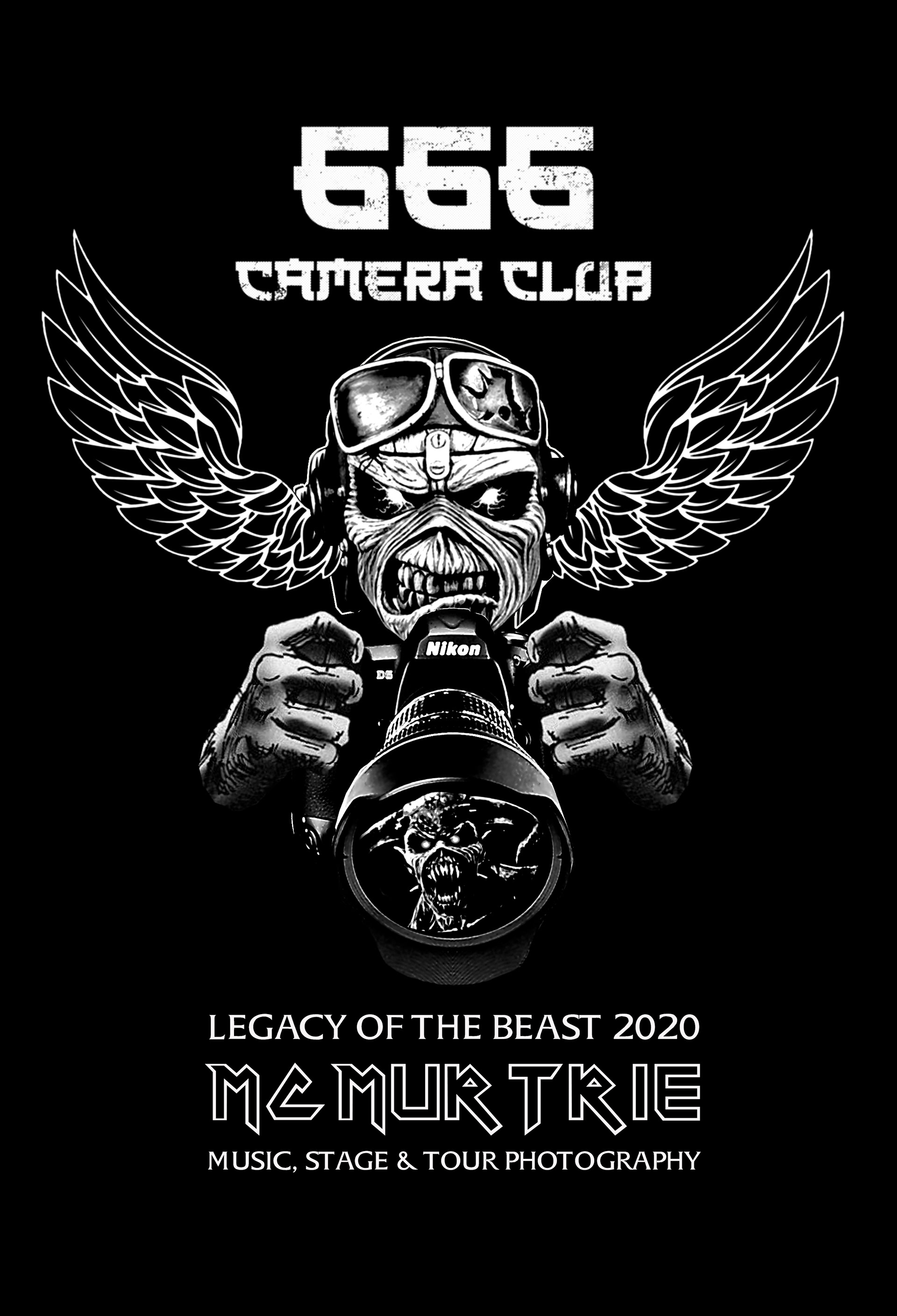 WHAT IS THE FLIGHT 666 CAMERA CLUB?
It all started as a joke back in 2008 on the first tour on board Ed Force One.  Quite often take-off would be delayed because of various photo calls or press shoots on departure and it was always the 'Camera Club' that got the blame! I also insisted on seat 10A on the plane because that had the best view of the engine with the Maiden tour art so they started reserving that seat for the 'Camera Club'.  Of course there is no club as I am the only photographer on board but it became a 'thing'.  To reduce the amount of time I spend in a launderette on tour I often make limited runs of T-shirts that I can wear and throw away.  The shirts have the 'FLIGHT 666 CAMERA CLUB' on them and people presume there is a secret club that only metal photographers can join. There isn't but maybe I should start one!
**extracts of this interview taken from Digital SLR Photographer magazine and Professional Photographer magazine with thanks.